Jonathan Clark Physiotherapy Southampton - We Exist To Help People
The team of experts at our Southampton physiotherapy clinic will help you to understand and overcome any ache, pain or injury, allowing you to quickly and safely return to living a pain free lifestyle.
Jonathan Clark Physiotherapy Southampton – Core Values
Our thoughts, words and deeds are as one, all flowing in the same direction.
We notice, feel, and respond to the suffering of others.
We support others to achieve a state of complete physical, mental, and social wellbeing.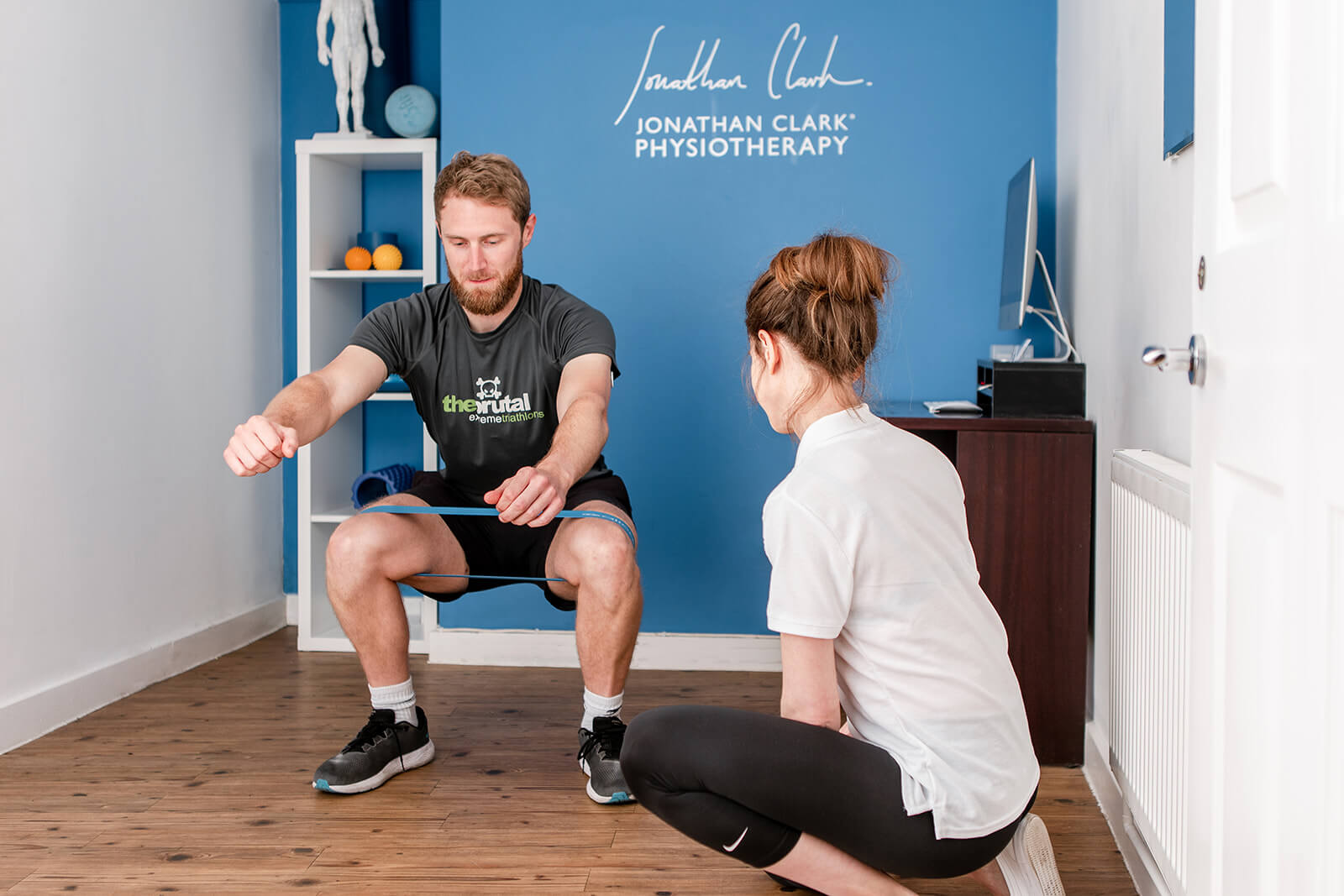 Shockwave Therapy is a scientifically proven way to speed up your recovery from injury. It is used for the treatment of a wide range of conditions, including plantar fasciitis, achilles tendinopathy, shin splints, patella tendinopathy, gluteal tendinopathy, trochanteric bursitis, hamstring tendinopathy, tennis elbow, golfer's elbow, rotator cuff tendinopathy, ligament sprains and muscular strains.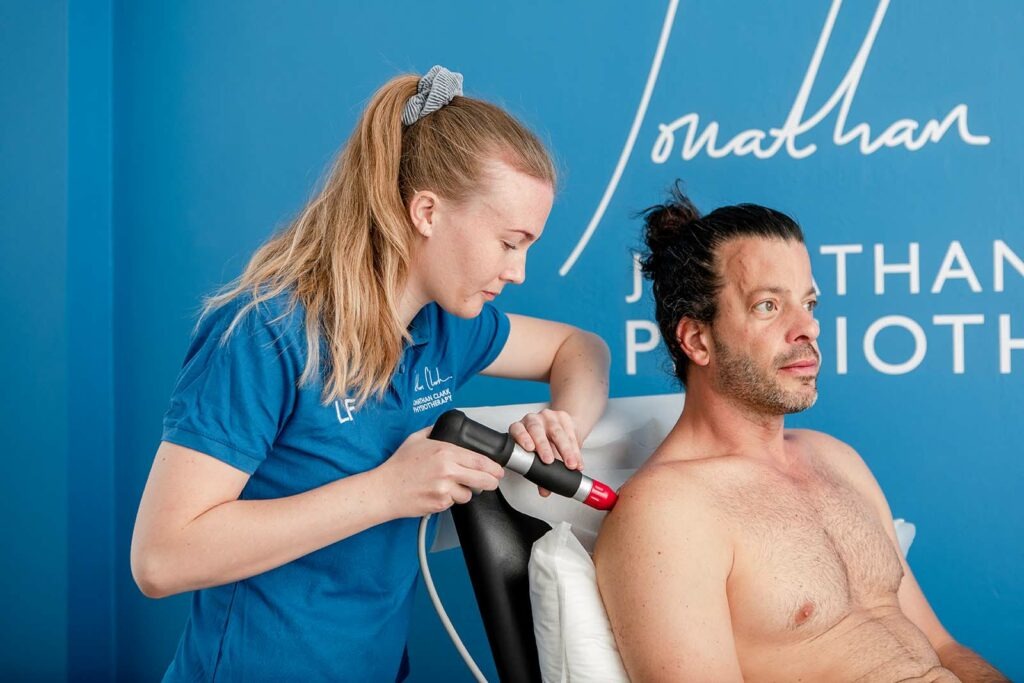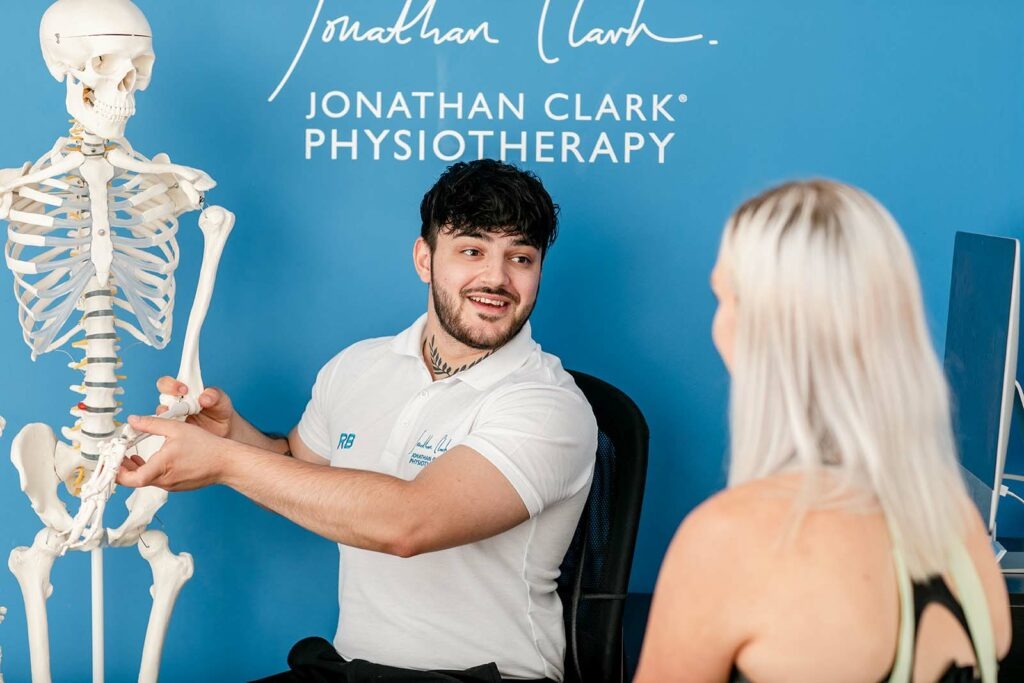 Our Free Injury Clinic is exclusive to clients presenting with neck, shoulder, lower back or knee pain. It is a free 15-minute assessment with one of our experts, to diagnose your injury and discuss the best treatment plan for you.
"A trustworthy treatment. I have found this company to be very professional. From the very first appointment I have felt comfortable explaining my condition, the treatment was fully explained & executed and continues to make such a difference. Would definitely recommend"
- NS
"I wish I could say I feel a 100% better, but would not be correct....I feel a 120% better than I have for years, what an excellent service, my injuries are a thing of the past, I will keep up the exercises for as long as I can, haven't felt this loose in ages I would have no hesitation in recommending your services to anyone. Thank you"
- DP
"Staff very friendly and welcoming. Excellent exercises given which has allowed me to build my strength up again after a massive confidence knock following an accident! So happy with the service received! Thank you!"
- GT
"I was a little bit sceptical in admitting defeat to my injury as I have never been to a physio before nor do I like doctors, I would much rather hope the pain would go away. After injuring my neck really bad while training Brazilian jiujitsu classes, I knew it was time to seek help urgently as it was really affecting my day-to-day life, I couldn't sleep, move my neck, drive and even play the PlayStation without being in severe pain. I booked an appointment with Max Bromirski; he was able to tell me exactly what was wrong and got to work immediately. Fast forward several sessions, I am now back to training 100%, and have begun booking competitions again. Max is a true professional, with an obvious enthusiasm to helping people. If you're unsure and are in pain or maybe never tried Physio, give Max a try. Once again, thank you Max"
- AC
"I saw Niall for several sessions on my right shoulder. Absolutely brilliant - so knowledgeable of anatomy. He explained my problem clearly and the reason for the exercises. He has such a lovely caring manner and clearly has a passion for his work. Really takes the time to understand and find put background factors, I now have a very useful tool bag of exercises, which I still do at the gym even though my shoulder is better. Thank you Niall I am now pain free and have full movement"
- T-JT
"I started going to physiotherapy for a pec injury/pain I had from bench pressing. Coming from my background of powerlifting I was sceptical of physio and thought I could fix it myself but after months of going nowhere I decided to book my appointment with Max Ankerstjerne. After just a couple of sessions we manage to pinpoint the pain area and not only was I able to lift pain free, but I feel significantly stronger. His ability to explain the theory on all the exercise selection is very helpful and has allowed me to learn new things. Couldn't recommend them enough!"
- JPDR
"My previous experience of physio was following several accidents. I had no idea it could help in other areas too so I was more than a little reluctant to undertake any as a result of a doctors referral due to a hip problem. I took it as a fob off to get me off the doctors waiting list. I was so wrong. The physio helped me hugely and the physiotherapist (Jordan) couldn't have been nicer, more focused, supportive and professional. I now have full movement in my hip, something I hadn't had for well over a year. It's amazing what a difference it made. Thank you. So much"
- HB
"So impressed with the deep tissue massage that I have become a regular. Ricky has such a positive personality, it's impossible not to feel good about the world afterwards. On a professional level, Ricky is faultless. His knowledge, experience and expertise is excellent and he is well qualified. Finally, a nod to the delightful reception team; always a pleasure. Thank you"
- RB
"Before receiving treatment at this establishment, I had been suffering from Achilles Tendinopathy for around 5 months. Immediately after my first appointment, I was given treatment and advice that helped me recover in around a month. I cannot recommend Jonathan Clark enough, it has a lovely atmosphere with friendly and well-informed staff who are amazing at their jobs. This establishment is easily worth the cost of treatment and will ensure a patient's recovery is fast and effective"
- Anon
"Excellent treatment from a very professional physio who went above and beyond to ensure that I made a full recovery. Highly recommended and good value for money"
- CW
JONNY GLENNY
SENIOR PHYSIOTHERAPIST
JORDAN ANDERSON
PHYSIOTHERAPIST
RICKY ATTFIELD
LEAD SPORTS & REMEDIAL MASSAGE THERAPIST
JOHNNY REAL
SENIOR PHYSIOTHERAPIST
AMY BENNETT
SENIOR PHYSIOTHERAPIST
LILY PAYNE
PHYSIOTHERAPIST
MAX ANKERSTJERNE
RECEPTIONIST
SIMI OSULA
PHYSIOTHERAPIST
NIALL STUBBS
REHABILITATION SPECIALIST
MAX BROMIRSKI
REHABILITATION SPECIALIST
BENSON TAI
PHYSIOTHERAPIST
CHRIS HUGHES
SPORTS & REMEDIAL MASSAGE THERAPIST
RACHEL PEARSALL
PRACTICE MANAGER
LYNN CLARK
ACCOUNTS MANAGER
KATHRYN JORDAN
RECEPTIONIST
WE CAN ASSESS YOUR INDIVIDUAL NEEDS AND GET YOU BACK ON THE ROAD TO RECOVERY